Nino and felix are two kids very different from each other and forced to live together like brothers. During a walk, they bring out all their differences and mistrusts, and have a clash that will lead them to discover a mistery they have in common!
"Nino & Felix" is a shortfilm produced by "La Sarraz Pictures" in collaboration with MIBACT, Apulia Film Commission, Film Commission Torino Piemonte and Regione Lazio.
FULL CREDITS:
Production
La Sarraz Pictures (www.lasarraz.com)
A project by
LaTestuggine
Written and Directed
Marta Palazzo & Lorenzo Latrofa
Animation
Marta Palazzo
Pamela Poltronieri
Daniele Scali
Background
Massimiliano di Lauro
Lorenzo Latrofa
Compositing
Arturo Leone
Lorenzo Latrofa
Digital ink & Paint
Pamela Poltronieri
Giovanna Lopalco
Music & sound design
Danilo Caposeno
Voices
Eva Rutica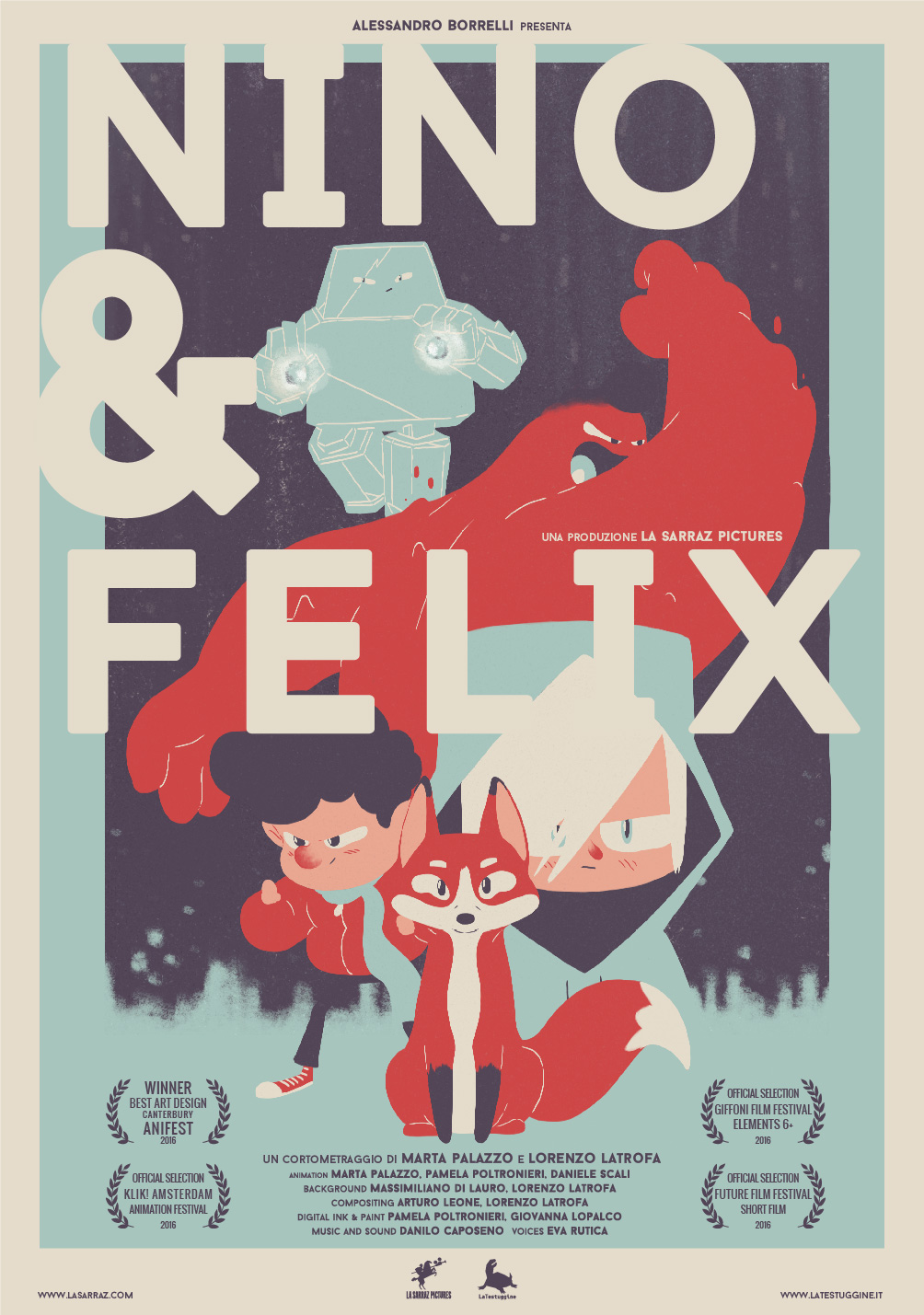 ---
STORYBOARD
Animation Process
Storyboard and Layout: Marta Palazzo, Animation: Daniele Scali, Background: Massimiliano di Lauro

---
CHARACTER DESIGN
We go on stylizing more and more. We try to highlight the two opposite personalities by using different strokes:
Rounded shapes and warm colors for the italian kid,
Rigid lines and cool colors for the scandinavian one.
We got the character design!
Once we found the right design for the two kids, we set the kind of process (software etc…).
We also decide to emphasize the difference between the two looks.
The Scandinavian boy in shy, "hipster", well equipped for the Northen hard winter.
The Italian one is "tamarro" (like the popular soccer player look), always bored and unequipped for snow!
---
BACKGROUND DESIGN
The location allows to tell about the deep differences between the two countries, through architecture and natural landscapes:
the Nordic Countries with their clean shapes, woods, brisk weather, in opposition with Southern traditional buildings sunshine, the Mediterranean.
Initially we opted for a colored scenic design, but then we chose a more grahic design.
Less color makes the atmosphere more gloomy, to tell how a child see an unknow country after leaving.

---
2d vs 3d
We create this scene using a mixture of 3d and 2d elements. The characters, the bike and some background elements are in 3d. Rendered in with flat coloring. In a second time we add 2d animations and details over 3d characters in a sort of rotoscoping. In the same way we added in the scene painted texture and vegetation using 3d reference.
---
Promotional Card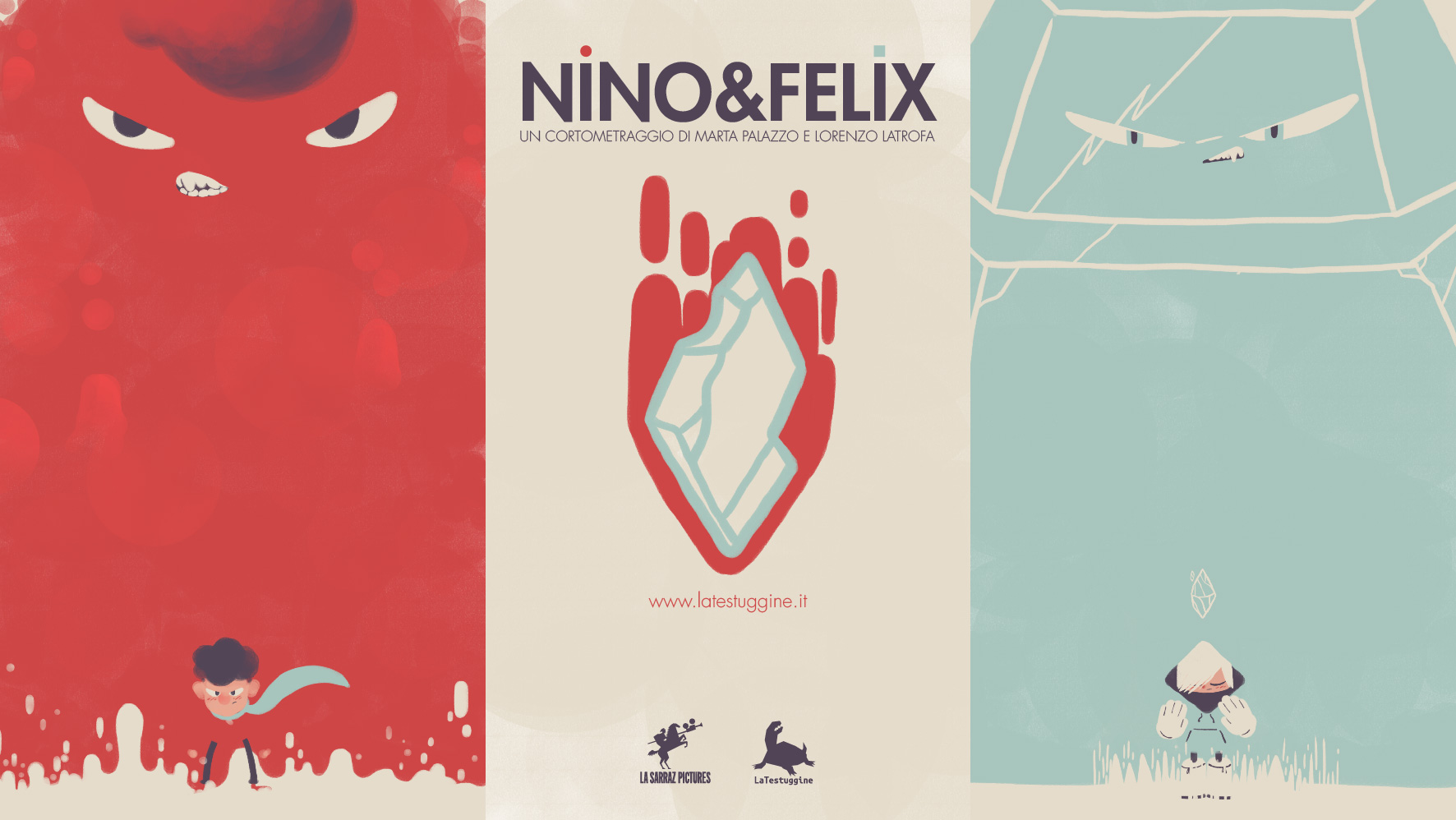 ---
EARLY DESIGN
In order to get financial support from the institution, we made a little teaser and some early studies on the character and the backgrounds. It was named Jorge and Felix at the time 😉

(Sound design e mix: Fabio Seri)